PREVIOUSLY RE-DISCOVERED -
At least one of the important sites
linked to the 1872 peace treaty.
The rock formation shown in the Forbes photo lies southwest of the entrance to the West Stronghold Canyon and it is as pristine a spot today as it was in 1872 -- safely located on National Forest property miles away from the nearest paved road. A private ranch closely borders this location, but the owner is cognizant of the historical importance of the unmarked area and has vowed to protect it (a fact for which I can personally vouch). The exact location of this site was "lost" to modern historians until it was re-discovered in the 1990's by William Gillespie, currently residing in Sierra Vista, Arizona.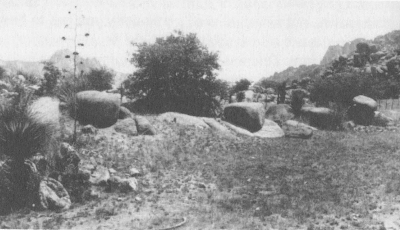 "Location of the peace treaty" - photo by Robert Forbes, 1913 -
THIS IS ASSUMED TO BE AT LEAST ONE OF THE SPOTS WHERE COCHISE HELD MEETINGS
WITH THIS KEY LIEUTENANTS WHILE JEFFORDS, HOWARD AND SLADEN ANXIOUSLY AWAITED THE RESULTS BACK IN CAMP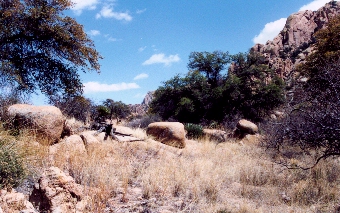 SAME SITE AS IT LOOKS TODAY
Photo by George Robertson, 2002 . . .
The site in the photo is assumed to be the spot where Cochise and his lieutenants discussed the matter of making peace and, in fact, came to their history making decision. A closer examination of the area seems to suggest that the group of rocks and boulders adjacent to this spot would actually make a far more functional conference site. This observation was made just last year, in my presence, by a close friend of mine who is wholly attuned to the spiritual aspects of Cochise and his land. Here I wish to thank Marybeth Dawson for her uncanny insight. She is a sincere devotee of the subject and I consider her observations invaluable. The next two photos illustrate the area in question -- which is within three feet of the site that Forbes photographed:


THE MORE LIKELY CANDIDATE FOR A CONFERENCE SITE.
Photo by George Robertson, 2002

THIS SEEMS TO BE A MORE OR LESS FORMAL SETTING AND HAS THE APPEARANCE OF HAVING BEEN KEPT GROOMED FOR MEETINGS AND CEREMONIES. THE CENTER, SADDLE-SHAPED BOULDER WOULD HAVE MADE A REGAL SPOT FOR COCHISE AS HE
ADDRESSED HIS AUDIENCE.
This specific area, however, is not the actual site of Cochise's camp and was never presented as such. The whereabouts of that all-important "rancheria" has been lost to us until just very recently, thanks to the surfacing of a second extremely revealing photograph, and to the actions of Cochise's biographer Ed Sweeney in recognizing its immense historical value. Beginning in September, 2000, a sequence of serrendipitous events unfolded that eventually led to the re-discovery of Cochise's exact camp and even to the pinpointing of the great chieftain's "shi-kow-ah", or house.