COCHISE'S 1872 CAMP
RE-DISCOVERED AFTER OVER 100 YEARS
PART ONE -- THE PHOTOGRAPH
It seems that Tom Jeffords delighted in taking close friends and serious historians back to the Dragoons for years after the reservation was closed, though he himself wrote little about the events that took place there. We know for example that he showed key spots to John Rockfellow, the first Anglo to build a home in the Dragoon Mountains following the removal of the Chiricahuas in 1876. Rockfellow went on to publish several articles drawn from the accounts Jeffords had related to him. Jeffords also showed locations to another local rancher, Billy Fourr, who later shared this knowledge with historian Robert Forbes (whose photo is discussed on the previous page.)

But it seems that Tom Jeffords saved the best for a comely young lady writer/adventuress who came into his life when he was up in years. It now appears that this woman was the only person to whom he revealed the actual, specific campsite held by Cochise during General Howard's stay -- and this campsite included the spot where Cochise had made his "shi-cow-ah", or house.

THOMAS (CAPTAIN) JEFFORDS
Circa 1895

This is the only known portrait we have of Thomas Jeffords, and we can thank Alice Rollins Crane for talking him into having this sitting back in 1895. According to her letter to General Howard in that same year, she had arranged the portrait for later use in a book she was planning to write. It is our great loss that she apparently did not follow through with this particular project.

Jeffords was born outside Chautauqua, New York on January 1, 1832 and set about making adventure his lifelong pursuit. He moved steadily westward, occupying himself with, among other things, sailing (where he acquired the title of Captain -- an appellation that became his most common nickname), mining, scouting for the army, and working as superintendent of the mail system in Tucson. Known to all as a hardy, sometimes rough-edged loner he found fame as the only White Man to win the trust and friendship of Cochise, at that time the most feared Apache in the Southwest. It was Jeffords' presence that made it possible for General Howard, in 1872, to win an audience with the great chieftain and eventually forge the historic agreement that put an end to Cochise's War. Jeffords outlived his Apache "brother" by many years, passing away peacefully at his Owl's Head Ranch, just north of Tucson, in 1914.
-
I draw this conclusion because of the several published photos growing out of Jefford's various guided tours, none were taken even close to the area that has now come to light as the site of the rancheria -- proven beyond a doubt thanks to the emergence of photos taken by the woman I've just mentioned: Alice Rollins Crane. The evidence supporting the authenticity of her photos is presented in the next few paragraphs.
-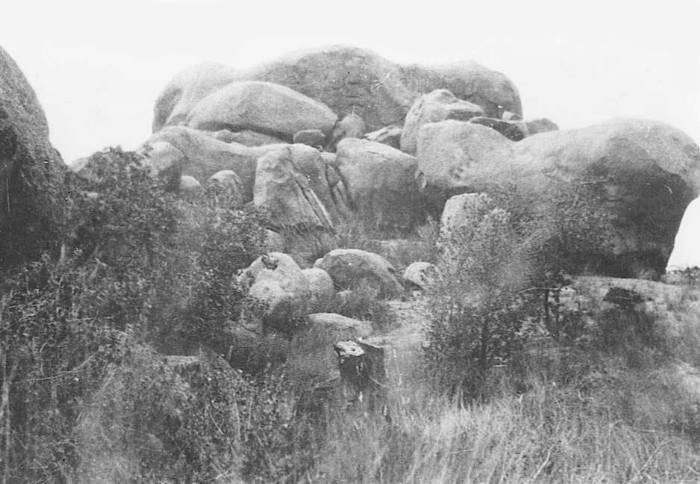 The photo taken by Alice Rollins Crane in 1895, in the company of Tom Jeffords, while on a camping expedition to "Apacheland". A notation on the reverse, in Crane's hand, calls this the "big rock on which peace was made."
The photo came to light during Edwin R. Sweeney's research for his book "Making Peace with Cochise". While visiting with Frank Sladen Jr., the elderly grandson of Lt. Joseph Alton Sladen, Sweeney was shown this black and white photo, which had been in the Sladen family's possession for decades. The photo has never been published, and has been shown to very few people outside the Sladen family. I owe a great debt of gratitude to Ed Sweeney for having sent me a copy of this historic photo, and no less a debt to Frank Sladen, the gracious grandson of General Howard's aide-de-camp.
The history of the photo has only recently been determined, thanks to further digging by Ed Sweeney when I informed him of my interest and my determination to locate the site in the picture. He found in his records a copy of a letter written by Alice Rollins Crane to General Howard, dated 1895 (which is part of the Oliver Otis Howard collection residing at Bowdoin College in Brunswick, Maine). She wrote the letter at the urging of her new friend Tom Jeffords, who thought the two of them would have an interesting correspondence. Alice had traveled with her husband to Arizona in search of fodder for new articles and/or future books, and she possessed a sharp interest particularly in the Apaches.
In this introductory letter she explained among other things that she had just returned from a five week trip into "Apacheland" with Jeffords, and that she had taken her "Kodak" along. She offered to send the General copies of several photos and excitedly proclaimed, "I have a spendid one of what Capt. [Jeffords] told me was the rock where you and Cochise stood when peace was declared . . ."
Alice did send a batch of photos to Howard and Ed Sweeney was able to locate a copy of Howard's reply, in which he clearly confirms the authenticity of the professed locations captured in the prints. It was the photo of the "rock" that made its way, eventually, from Howard's family to Sladen's family. We know this is the same photo because on the reverse, in Alice Rollins Crane's handwriting, appears the following notation:


HAND WRITTEN NOTE APPEARING ON REVERSE SIDE OF THE PHOTO SHOWN ABOVE:

"The big rock a few feet south of the 'cathedral' where Captain said you and Cochise had many a talk over peace making. Captain calls it the rock on which peace was made as he says it was here that Cochise first began to really and seriously consider the matter with you."
Ed Sweeney had received from Frank Sladen a copy of both sides of this fantastic photograph for his research and it sat buried in stored files until he thoughtfully dug it out in the year 2000 and sent it to me -- with a note attached: "Let me know when you find it! Good Luck!!"
It is important here to note that the copy Ed sent to me was, in fact, a "Xerox" type copy -- very small and very contrasty, lacking in detail. It was not until three years later that I was able to obtain the much better copy shown above, thanks again to Frank Sladen Jr. and Edwin R. Sweeney.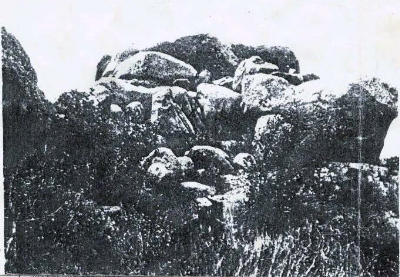 THIS WAS THE XEROX COPY SENT TO ME BY ED SWEENEY IN THE YEAR 2000.
IT WAS THIS CONTRASTY PRINT THAT I CARRIED WITH ME ON MY NUMEROUS
TRIPS TO THE DRAGOON MOUNTAINS WHILE ATTEMPTING TO FIND THE
LOCATION DEPICTED.
In a follow up phone conversation Ed explained to me that a few others have tried to locate the site of the photo in past years with no luck and that he thought it might well be impossible to find after over 100 years in obscurity. I told him I was up for the challenge.