..
CREATED BY
GEORGE S. ROBERTSON,
PEARCE, AZ - ©2004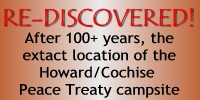 "When I was young I walked all over this country, east and west, and saw no other people than the Apaches. After many summers I walked again and found another race of people had come to take it."
. . . . Cochise
The state of Arizona contains 10 counties named for Native American tribes or groups. It is that state's acknowledgment of the importance of these Peoples to its history and culture. But there is only one county that bears the name of a single man -- a Chiricahua Apache leader who was arguably the greatest war chief in the history of that storied tribe.
His name is Cochise, and the area presently covered by Cochise County bears a strong correlation to what in the mid eighteen fifties through the 1860s was The Land of Cochise.
This was the land of the Chokonen band of Chiricahua Apaches. Chokonen, or "people of the forest", were more nomadic by nature than many other Apache bands, a lifestyle dictated by the often harsh climate of the southwestern desert. They ranged from northern Mexico up into present day Arizona, and over into extreme south-western New Mexico.
They moved frequently, returning faithfully to their favorite areas when they were able. Cochise loved, more than any other place, the mountains that border the Sulphur Springs Valley. This was truly his home. This was the Land of Cochise.

MOST OF THE HISTORICAL MATERIAL PRESENTED IN THIS WORK HAS BEEN DRAWN FROM THE PUBLISHED WORKS OF EDWIN R. SWEENEY, WHOSE FRIENDSHIP AND ENCOURAGEMENT OVER THE PAST TWO YEARS IS VALUED BEYOND WORDS. MR. SWEENEY IS WORLD RENOWNED FOR HIS BIOGRAPHICAL VOLUMES ON THE LIVES OF BOTH COCHISE AND OF COCHISE'S FATHER-IN-LAW, CHIEF MANGAS COLORADAS. HE IS PUBLISHED BY THE UNIVERSITY OF OKLAHOMA PRESS.
YOU WILL FIND FREQUENT LINKS THROUGHOUT THIS MATERIAL THROUGH WHICH YOU CAN PURCHASE EDWIN R. SWEENEY'S VARIOUS BOOKS, AND THE BOOK STORE SECTION OFFERS MANY OTHER PUBLICATIONS YOU WILL WANT TO CONSIDER OWNING.

Help me make this site even better. Please consider a donation to Land Of Cochise to make new features possible. Any amount is deeply appreciated.

Upcoming additions planned include a CD of original orchestral music inspired by Cochise's story -- and a high quality DVD with original music that will hopefully capture some of the incredible beauty
of this land.

GSR ENTERPRISES SITES