-

-


.
In association with. .


.
WARNING - Until you own this, the newest of Edwin R. Sweeney's books, your collection of Cochise related historical volumes will be incomplete!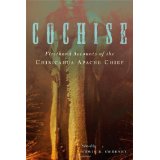 Cochise - First Hand Accounts of the Chiricahua Apache Chief - by Edwin R. Sweeney
Those of us - and there are many - who harbor a deep and abiding admiration for Cochise, the greatest of the Apache war chiefs, have been waiting a very long time for this book. My good friend Edwin Sweeney has once again provided an amazing glimpse into the mind of Cochise, this time in a most direct fashion by letting us almost literally hear his words. Not only has he gathered together the most comprehensive collection of actual speeches by the great Cochise, but he has also collected many first hand accounts by Cochise's contemporaries, in the form of letters and official reports, that are surprisingly detailed. Many of these items were previously undiscovered and/or unpublished. Published in May, 2014 - this is Edwin R. Sweeney's newest book and it is a perfect and fitting companion to his beautifully written Cochise biography of 1995.
Reviewer: George Robertson, Land of Cochise webmaster


Cochise: Chiricahua Apache Chief- by Edwin R. Sweeney
Unquestionably the most thoroughly researched and well presented biography ever published on the life and times of this greatest of all Apache leaders. Mr. Sweeney is regarded the pre-eminent authority on the subject and it is a reputation well deserved. This book explores Cochise as a leader, a human being, and an icon -- and it is in addition an in-depth study on the life style of the Chokenen band of Apache Indians, which Cochise led with unwavering courage, wisdom and endurance. No library or collection should be without this beautifully written biography.
Reviewer: George Robertson, Land of Cochise webmaster

---

Making Peace With Cochise - by Edwin R. Sweeney
One of my prize possessions is a signed copy of this incredibly important book by Cochise's biographer Edwin R. Sweeney, whom I am proud to call friend. Ed Sweeney has made many visits to the site of the famous peace treaty of 1872, which happens to be only about ten miles as the crow flies from my home in southeastern Arizona. It was due to his encouragement and persuasion that I was able to make a very exciting discovery on the western slopes of the Dragoon Mountains in 2002 (click here for details). This book thoroughly details the entire journey taken by General O.O. Howard and his aid Lt. Joseph Alton Sladen and is drawn from actual daily memoirs written by Sladen himself. The section dealing with their visit to Cochise's camp is priceless history, shining a vivid light onto the customs and personalities of the Chokonen Apaches and even Cochise himself. This is the culmination of the true "Broken Arrow" story, made famous in the 1950's motion picture starring Jeff Chandler and James Stewart (which was taken from the historical novel "Blood Brother" by Elliot Arnold). This is quite simply a MUST HAVE book for anyone drawn to the story of Cochise.
Reviewer: George Robertson, Land of Cochise webmaster


---

Mangas Coloradas: Chief of the Chiricahua Apaches- by Edwin R. Sweeney
Edwin R. Sweeney, the recognized authority on Cochise and his people, has equaled if not surpassed his former accomplishment with the publishing of this remarkable study on the life of Cochise's father-in-law, the wise and powerful Mangas Coloradas. Never before has this subject been so thoroughly examined, and Mr. Sweeney has revelations to share on important aspects of the early life of Mangas. Never fearful of controversy, Edwin Sweeney brings powerful arguments to bear to support his opinions, making this book every bit as indispensable as "Cochise".
Reviewer: George Robertson, Land of Cochise webmaster

---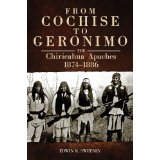 From Cochise To Geronimo - by Edwin R. Sweeney

Adroitly picking up from where his landmark Cochise bio left off, Edwin Sweeney once again proves to the world that no historian past or present matches his skill at getting at the minute details of Apache history, and telling it in such an enjoyable style of writing. His expertise in this area is beyond reproach and this wonderful and important volume only further cements his rightful place as the pre-eminent scholar on the history of Cochise and his people. "From Cochise to Geronimo" relates the continuing saga of the Apaches in general, though the focus is clearly on the Chiricahua bands. It is packed with brand new information giving phenomenal insight into the plight of the Apaches in more modern times, specifically from 1874 with the death of Cochise to 1886. This book belongs on your shelf if you relish probing historical research and completely accessible writing.

---

Blood Brother - by Elliott Arnold
It would not be a stretch to say that before the publication of this historical novel in 1947 few non-historians (and in that category I will include history buffs) had ever heard of an Indian named Cochise -- although many would have recognized the name as a county in Arizona. The exception, of course, would be most of the population of southern Arizona who would have grown up hearing tales of the greatest of all Apache war chiefs, and how many Whites he happily killed in his 13 year war with the Americans. The book did a great deal to set the record straight, revealing Cochise as a truly courageous and powerful leader of a people who were witnessing their very world being stolen from under them. It was tremendously popular and in 1950 it spawned a motion picture, "Broken Arrow", that would further popularize Cochise and the Chricicahua Apaches, and elevate the story to mythical proportions -- especially the saga of Cochise's rare friendship with Tom Jeffords. Next came a TV series, and soon Cochise became as recognized a name as Sitting Bull in America's lexicon. Probably the strongest recommendation for this book is the fact that Edwin Sweeney, Cochise's greatest biographer, counts this novel as one of his favorite books (a fact he has told me personally many a time). What better referral is there?
Keep in mind that while the book is true to history in many respects, it was written before much was known in detail about Cochise's family and his people. Some relationships are incorrect, such as Cochise's principal wife's name and the fact that she was actually a daughter of Mangas Coloradas and not, as the novel purports, a sister.

These are somewhat minor inaccuracies, overshadowed entirely by the greater truth this book tells. For instance, the story of the peace accord is told almost exactly as it happened, which cannot be said of the movie or the TV series. It is a book that deserves a prominent place in your library if you love the story of Cochise and Jeffords.

---

An Apache Life-Way: The Economic, Social, and Religious Institutions of the Chiricahua Indians - by Morris Opler
Opler's book is the result of lengthy interviews with informants during the early part of the Twentieth century. He has quoted many of these Apaches verbatim without editorializing thereby providing an authentic picture of the tribal lifeway during the 19th century. The reader learns not only the ethnological facts but senses the feelings, values and emotions of these people. "An Apache Lifeway" remains the most definitive source of material cited in later publications on the subject. The book is easily readable because anthropological jargon is avoided.

---

The Conquest of Apacheria- by Dan L. Thrapp
Dan Thrapp is considered one of the most important voices in the research and documentation of the Apache Indians, and it was his personal encouragement that compelled Ed Sweeney to produce his biographical masterpiece "Cochise". This book is one of Thrapp's best, painting a concise picture of the military aspects of the Apache Wars. Reviewer: George Robertson, Land of Cochise webmaster

---

The Apache Indians - by Frank C. Lockwood
Frank C. Lockwood's contribution to the telling of Apache history is still regarded as one of the most valuable. Some of the material regarding Cochise will seem a bit shallow due to the fact that Sweeney's more recent research managed to flesh out details in the great chieftain's history that were simply unknown at the time Lockwood's book was published. Still, it deserves the reputation it has garnered over the years and should be a part of any complete library dealing with the Apache tribes. Reviewer: George Robertson, Land of Cochise webmaster

---
In the Days of Victorio- by Eve Ball, James Kaywaykla (Narrator)
Anyone interested in the Apache and the history of the American Southwest needs to read this book. You will likely consider the events and participants of this controversial period of history in a new light when you hear the "other side of the story" from one who was there. I wouldn't be surprised if you measure all other accounts of the "Apache Wars" period against Mr. Kaywaykla's testimony.
Reviewer: Stephen D Clark from Silver City, NM USA

---

Indeh, An Apache Odyssey- by Eve Ball
I picked this book up in Bisbee, AZ on a recent trip. Expecting it to be dull and academic, I was delighted to find it is great reading. I could slowly read a chapter or two each night and LEARN something of what life was like for an Apache who was a boy during the last "Indian wars" of the southwest.
It has always fascinated me that this huge country was only recently occupied largely by people such as the Apaches. White people and their "civilization" were still just building their way, one stick at a time, toward a new world of artifice and hypocrisy to surround the native people of North America.
This is a rare find! Eve Ball has helped preserve some important Apache oral history translated to written form.
Reviewer: A reader from Boston, MA USA

---

Apache Voices: Their Stories of Survival As Told to Eve Ball- by Sherry Robinson
In the 1940s and 1950s, long before historians fully accepted oral tradition as a source, Eve Ball (1890–1984) was taking down verbatim the accounts of Apache elders who had survived the army's campaigns against them in the last century. These oral histories offer new versions—from Warm Springs, Chiricahua, Mescalero, and Lipan Apache—of events previously known only through descriptions left by non Indians.
A high school and college teacher, Ball moved to Ruidoso, New Mexico, in 1942. Her house on the edge of the Mescalero Apache Reservation was a stopping off place for Apaches on the dusty walk into town. She quickly realized she was talking to the sons and daughters of Geronimo, Cochise, Victorio, and their warriors. After winning their confidence, Ball would ultimately interview sixty-seven people.
Here is the Apache side of the story as told to Eve Ball. Including accounts of Victorio's sister Lozen, a warrior and medicine woman who was the only unmarried woman allowed to ride with the men, as well as unflattering portrayals of Geronimo's actions while under attack, and Mescalero scorn for the horse thief Billy the Kid, this volume represents a significant new source on Apache history and lifeways.
Sherry Robinson went through seventeen unsorted boxes of Ball's papers left at Brigham Young University's Harold B. Lee Library, realizing that Ball had not used all her transcripts in her published books. She also found that the generous, energetic, and strong willed Eve Ball was as fascinating as her subjects, and she provides lively glimpses into Ball's relationships with fellow Apache scholars Angie Debo and Dan Thrapp.
---

Once They Moved Like The Wind -by David Roberts
An engrossing and revealing study of the Apache Resistance -- that period of time when the Chiricahua Apaches, including Cochise's Chokonens, fought desperately to counter the plague of the "White Eye". This book focuses on the efforts of Cochise and, later, Geronimo and vividly depicts the desperation of their doomed lives. It also chronicles the ironic story of how a handful of Apaches -- men, women and children -- managed to elude five thousand American troops and three thousand Mexican soldiers. This book is a valuable resource for any serious student of the Apache Wars, giving insight into the motivations on both sides and shedding light on the personalities of most of the great Apache leaders: Cochise, Nana, Loco, Juh and the implacable Geronimo. Reviewer: George Robertson, Land of Cochise webmaster

---

Gatewood & Geronimo-by Louis Kraft
This book was a revelation to me. I had read many times about Gatewood's difficult journey into Mexico as he attempted to track down the elusive and desperate Geronimo, guided by two of Geronimo's close relatives. I thought that I appreciated Gatewood's achievement, but I discovered that I had little understanding of the tremendous hardships that able American officer endured on his nearly impossible campaign. Kraft has done his research and he has created an ultimately readable masterpiece that puts this episode into the sharp focus it deserves. If you saw the movie "Geronimo, An American Legend", you must by all means read this book because it will dispel many myths and untruths that the movie, unfortunately, both created and perpetuated. History as it actually occurred would have made a far better motion picture, as is almost always the case! Reviewer: George Robertson, Land of Cochise webmaster

---

The Truth About Geronimo -by Britton Davis
You could do no better, if your interest is in knowing the facts surrounding the legendary Apache warrior Geronimo, than to purchase both this book and the one preceding (Gatewood & Geronimo). In the years since Geronimo's surrender his story has taken on truly mythological proportions. Even the modern Apaches disagree as to his importance in their great history -- but it cannot be denied that he embodies the spirit of a people who treasured more than anything their freedom. This book was written by one of the central figures in the Geronimo campaigns -- the man who for a time acted as agent on the reservation where Geronimo occasionally stayed (between his infamous "break outs".) It could be said that no American knew Geronimo and understood him to the extent that Britton Davis did, unless that man was Charles Gatewood. Buy both books and the true story of Geronimo's Resistance and his eventual surrender will come into sharp focus.
Reviewer: George Robertson, Land of Cochise webmaster

---

Geronimo-by Angie Debo
This biography truly reveals the man behind the myth. Geronimo has had a reputation as either a bloodthirsty, pitiless scalp hunter (the
conservative view), or as a divinely guided leader trying desperately to save his people from destruction (the romantic view). Both of
these are partially correct, but neither gives any indication of Geronimo as a human being, and that's what Debo does ably in this book.
Debo compiles all the information available to give an impressively detailed portrait of the man's life, and uncovers many aspects of his
personality, both good and bad. So we get the predicted praise for his bravery and honesty; but the author is not afraid to criticize his ill
temper, vindictiveness, and lack of eloquence.
While the focus remains on Geronimo himself, this book also serves as an informative history of the final days of Apache independence.
Many interesting characters are covered in a good amount of detail when Geronimo is absent from the narrative, like Victorio, Loco,
Chihuahua, Kaywaykla, Naiche (my personal favorite) and even the white generals Crook and Howard. There is ample coverage of the
tribe's post glory days when they were imprisoned on various disagreeable reservations, and the depressing consequences of the loss of
their culture and the deaths of many tribe members from disease. The only flaws in this book are Debo's criticism of previous information
sources as inaccurate (they were, but the author's criticism is often arrogant), and a rather sappy, overly sentimental writing style.
Reviewer: Doomsdayer520, Amazon.com review


---

Western Apache Raiding and Warfare-by Grenville Goodwin

---

Life Among the Apaches-by John Cremony
John Cremony was a witness to history -- a player in the drama itself. He was in the thick of it during the famous Battle of Apache Pass, and he had an insider's knowledge of the intricate interaction between the Apaches and the U.S. military. He was also a gifted writer who has left us with a colorful rendition of life in the Land of Cochise. There is no question that he was given to exaggeration on occasion, a quirk that he probably picked up during his stint as a reporter for the Washington Herald (reporters in those days were not bound by the same strict tenets as are modern journalists). Read this 100 year old gem with the thrill that comes from seeing southwestern history through the eyes of one of its key participants.
Reviewer: George Robertson, Land of Cochise webmaster

---

Santana - War Chief of the Mescaleros-by Almer N. Blazer
.... Santana ..... the great chief of the Mescalero .... most certainly deserves the esteem accorded
Mangas Coloradas, Cochise, Geronimo, and Victorio.


Excerpt from review by James A. Wilson, Southwestern Historical Quarterly, January 2002

---

A Portal to Paradise-by Alden C. Hayes
This exhaustive, colorful work paints a vivid history of the Chiricahua Mountain region from prehistoric times right up to World War II. Mr. Hayes achieved the kind of result that few non-fiction writers manage with engaging and at times edge-of-your seat vignettes that bring a heartbeat to the words on the page. I include this book in this bookstore primarily because it has a great deal of material about Cochise's times and the Apaches who made the Chiricahua and Dragoon Mountains their home -- but it is worth your money as pure and simple enjoyable reading. Rarely have I encountered such rich characterizations as Hayes has embued each of his real life characters. They practically sit up on the page and smile at you.
Reviewer: George Robertson, Land of Cochise webmaster

---

Geronimo: His Own Story-by Geronimo to Stephen Barrett, translated by Daklugie, son of Juh
In his waning days, the legendary Apache warrior Geronimo agreed to tell his story first hand to Stephen M. Barrett, the acting superintendent of schools in Lawton, Oklahoma. Acting as interpreter was the son of one of the great Apache warriors, Juh (pronounced 'who' or 'hoe' depending on who you talk to). The resulting autobiography is a treasure if for no other reason than being able to hear Geronimo's take on the history of his people. His dates and chronology are suspect, possibly due to his advanced age at the time of the work (although his actual age cannot be known, he was most likely in his 80s). Some key and pivotal parts of the Apache story are missing from his narrative, and he is careful to justify all of the violence that had come of his many "break outs" in the years before his final surrender. It is a peek into the mind of one of history's most controversial characters, and a good read as well.
Reviewer: George Robertson, Land of Cochise webmaster

---

The Geronimo Campaign -by Odie B. Faulk
The final surrender of Geronimo and his small band of "renegade" warriors (a group that included Naiche, the youngest son of Cochise) signaled the end of an era. It was the final campaign of the Indian Wars, and it was the end of Geronimo's freedom, for although he would live another 23 years he would not out-live his tribe's excessively long term as prisoners of war. But he did not give up easily. The story of Geronimo's resistance to some is heroic, to others merely reckless. But it is an iconic story and it is fascinating from beginning to end. This book covers ground that others have done before, but it has its own voice and its own point of view. Faulk is a leading historian of the southwest and his insight into the Apache leader gives his book sharp focus.
Reviewer: George Robertson, Land of Cochise webmaster

---

I Fought With Geronimo -by Jason Betzinez
A truly extraordinary book detailing the Apache struggle during the time of the Geronimo campaign, from the first person vantage point of an
Apache boy who would later be named Jason Betzinez. This book reveals the Chiricahua Apache's spirit and love of life as well as his unbelievable
capacity for survival in a world hostile at every turn. Insights into culture and spiritualism are woven into an immensly readable narrative, making
this one of the "must haves" of any Apache afficionado.
Reviewer: George Robertson, Land of Cochise webmaster

---