The Chiricahua Mountains - cont.
A young Whitetail Deer in the
Chiricahua Mountains (Pinery Canyon)

Head-on with a majestic Golden Eagle just outside of Rucker Canyon, in the Chiricahua Mountains.
---
Diversity is the name of the game in the Chiricahuas. Though situated very near the Mexican border in the most arid of climates, a rich variety of habitat is found here. In fact, four major North American bio-regions converge in the Chiricahua Mountains. There are two desert regions (Chihuahuan and Sonoran) and two distinct mountain chains (Rocky Mountain and Sierra Madre). Thick forest of tall pines snuggle against one side a typical canyon while Yuccas and Prickly Pear mixed with low scrub like Mesquite and Cat Claw carpet the slopes opposite. In winter, the peaks are frequently capped with snow, and occasionally the entire chain from top to bottom.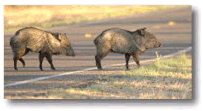 . .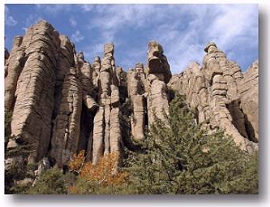 ---

- - -